After the Loony Labor Day "shorty" '57 Chevy wagon, we decided a comparison was in order. Today's slice of Americana is also a '57, also light blue with white two-tone, and is also being sold on Los Angeles craigslist even though it is located hundreds of miles away from LA county. They both started life as 4-door wagons but the choice between these two haulers would be very simple for this DT editor – a clean, unshortened, unmolested and running car for $5k more is a no-brainer! Check out this 1957 Ford Country Sedan station wagon, located in Sacramento, CA for $8500.
The 1957 Fords were completely redesigned from the previous year, something GM couldn't say about Chevrolet – which didn't get its planned '57 design ready (that became the '58) and had to extend their two year old chassis' production for another year with minor changes. A longer, lower shape benefitted the conservative blue oval styling though, and they even grew some junior tailfins which were very subdued and restrained compared to GM's.
We like the overall look of these Fords and think they have great proportions. They have all of the '50s design hallmarks but are fairly toned-down compared to their competition which gives them an understated appeal today. The bug-eye headlight bezel treatment is the only awkward feature in our eyes. This example does appear to be remarkably original and we can see that the white paint is starting to be rubbed off of the front fender tops, likely from thousands of wax and buff jobs over the years. If this truly is the original paint we would leave it alone, keep it waxed, and enjoy the mild patina – this car has aged gracefully compared to some of the rusted hulks that the word "patina" gets applied to these days.
In the garage picture above we can see some surface rust on the fascia panel behind the front bumper, but repainting this one part will not break the bank if the new owner can get the color to match. The stainless trim and chrome pieces appear complete and straight apart from a small dent & kink in the rear bumper, which might be workable without the need for replating. The floor rug in the garage is sweet; it really ties the room together, dude.
The one need the seller mentions is that the front seat should be reupholstered, and we can see that it's currently wearing a seat cover that appears to be made from a skinned Cookie Monster. Maybe those Veggie Monster rumors were true, and the original "Cookie" was killed and replaced with a health conscious lookalike. Me no care; me still like cookies!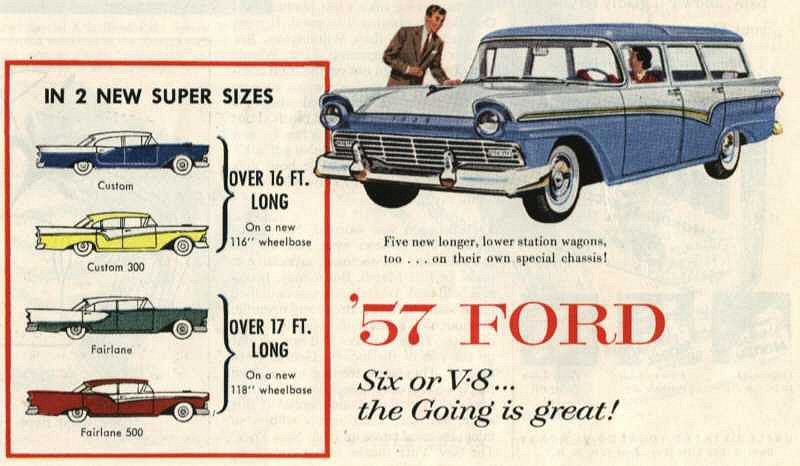 from oldcaradvertising.com
The original ads for these cars mention the engine options as "Six or V-8," and we bet the going really is great with this car's optional middle of the range "Thunderbird" 292 cubic inch (4.8L) V8. This Y-block is by no means a powerhouse, being rated at 190 gross hp when mated with the 3-speed / overdrive manual transmission – that's right – this blue & white truckster has a 3-on-the-tree column shifted manual. Take a look at that interior picture again; notice the clutch pedal! Even though Ford made almost 187,000 of these Country Sedan wagons in '57, we'd bet they are hard to find in this condition today with a manual trans.
from 1957Ford.com
Wayne Carini's F40 Motorsports has an all-original survivor '57 Country Sedan listed for sale, a former museum piece with only 47k miles in mint green & white that looks to be the twin of this car except for the color. It also has the 3-speed manual with selectable overdrive and looks amazing, but for $41,000 less we'd rather have this craigslist blue & white special with "beef" beneath the beauty – hopefully that beef hasn't rotted by now – it's 55 years old!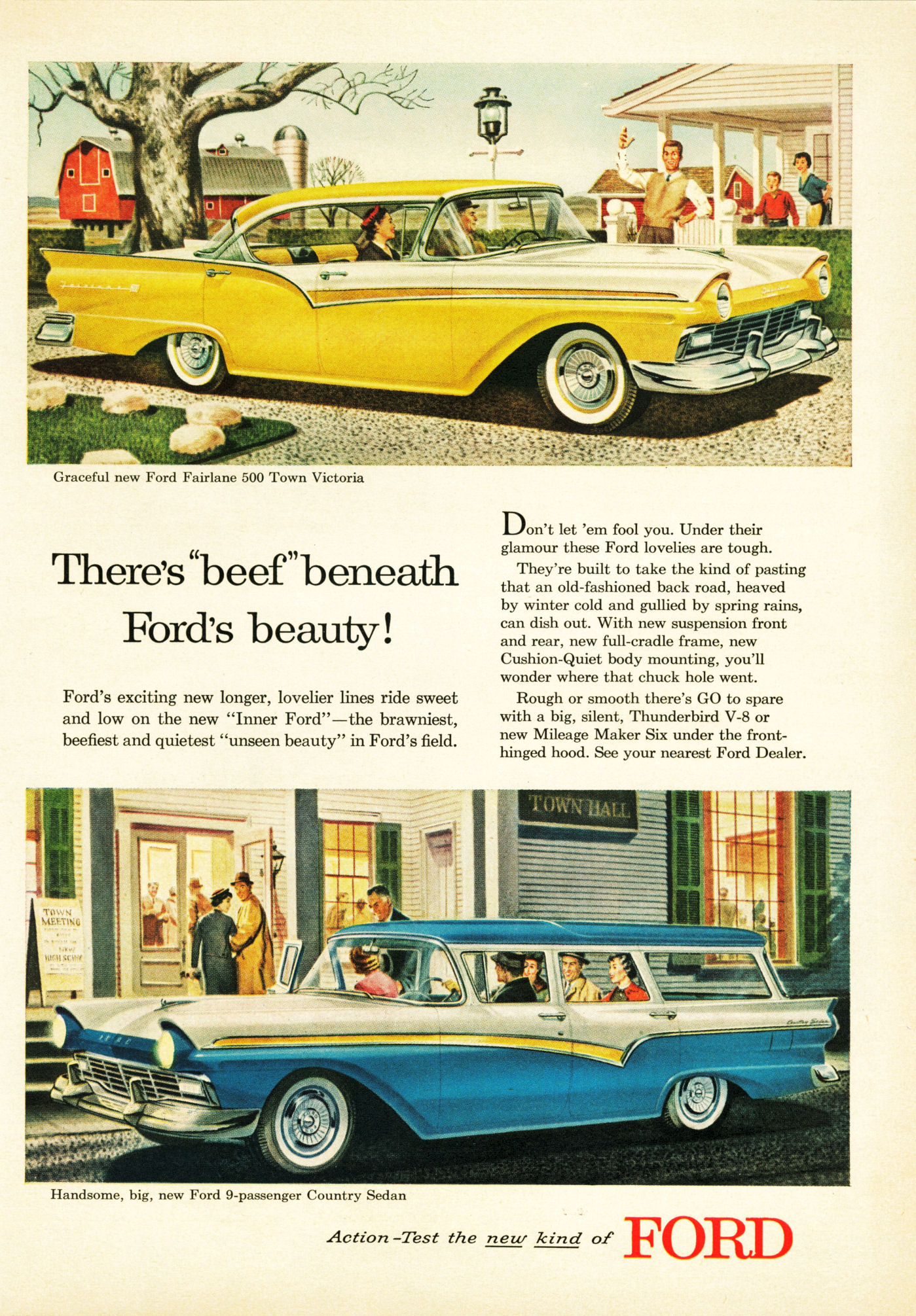 from oldcaradvertising.com
Would you rather cruise in a short bus abortion or this dignified golden oldie? Let us know in the comments below!
Find a better '50s wagon for less? email us here: tips@dailyturismo.com