A look at DT's own cars, past and present…
Not actually DT cars…but who doesn't like E30s and E34s?
Continuing our 3rd Birthday Celebration from Friday, we turn the focus inward for a minute to reflect on our own cars and experiences with them.
In no particular or discernible order, let's get to it!
1984 Mercedes-Benz 300TD (W123) Wagon – CFlo
Slowness, build quality, a distinctive smell, class, comfort, diesel, and more slowness. This is how I would describe my year-long stewardship of this classic M-B boat. It ran great on free veggie oil fuel, never left me stranded and had room for late night shenanigans with large groups of friends. Escaping through the sunroof? No problem! I rebuilt the front suspension, did normal maintenance and drove this beast for about 20k miles before the slowness was overpowering and it was replaced with a WRX wagon.
Status: Probably still stinking up the So-Cal freeways somewhere.
2003 Subaru WRX Wagon – CFlo
A 240 horsepower turbocharged flat four, all wheel drive, 5-speed manual trans and room for cargo. That's what drew me to this early "GG" WRX wagon. The 2.0L was peaky and lacking midrange for street driving, but wound to the limit it did well for track days. It saw action at Willow Springs & Buttonwillow raceways. Wheels, tires, and brakes were the only mods made in the name of longevity and grip. This was a great all-around performance & utility car, equally at home on the highway, track, and in the snow. Repair costs & typical Subaru complexity left me looking for something older and simpler – a Volvo 242.
Status: Gone but not forgotten
1981 Volvo 242 DL – CFlo
Compared to a 2003 WRX, a non-turbo 1981 Volvo is a pretty basic machine. But the fundamentals are solid – lightweight yet roomy and reasonably stiff unit body structure, nimble rack & pinion steering, easy to modify suspension (strut front / solid axle rear) and a tractor-grade iron Redblock engine. This little Artesia Beige beauty was sold new in CA and I am only the 3rd owner. Brown terrycloth interior reminds passengers of lazy trips to the beach, and a Swedish friend says they call this paint color "Grandpa beige" back in the mother country. It's mostly stock but is being fully refreshed as a multipurpose street/trackday/autocross machine.
Status: Under the knife – B230FT turbo engine swap in progress
1992 Honda Civic VX Hatchback – CFlo
The Civic VX was the rarest and kookiest version of the ubiquitous early '90s Honda, by far. Only offered in three-door hatchback body style, the VX was the 50mpg special that featured a VTEC-E system on its 1.5L engine, keeping one intake valve closed on each cylinder for increased swirl at low load. A wideband O2 sensor and lean-burn system allowed a cruising air/fuel ratio of 22:1 – ridiculously lean for gasoline! Super light 13″ alloy wheels and a bare-bones interior made it a featherweight, and the 5-speed manual made it a fun little go-kart. Bought from a friend, fixed up, given to a family member…stolen, recovered, rebuilt, sold…
Status: Who knows?
1984 Volvo 245 Diesel Wagon – CFlo
Seriously, how many Volvos does this guy have? Not enough, apparently. I found this one on the Seattle Craigslist and bought the car sight-unseen with PPO help from a friend who wrote "It is slow as balls. I think cruising at 60-65mph is going to be about as fast as the car will be happy with. I went 70 on a slight decline, but man, it's slow." Rust-free body, running and driving – sure, I'll fly up and road trip back to LA. It's smog exempt!
Status: Awaiting twin-turbo V8 swap…
1986 Toyota Hilux 4WD – CFlo
I found this truck in San Diego 10 years ago, for $2100. It was a one-family owner base model. Original light tan paint, original CA sunset plates, working AC. Manual everything, including steering. I drove it for 8 years on & off, rebuilt the 22R 4-cylinder, and put some BFG All Terrains on it. Otherwise stock, and what a great little workhorse it was.
Status: Essentially traded to a friend for the DTM5.
1983 Volvo 242 DL – Vince & CFlo
Seriously, another Volvo? Well yeah, and you guys knew about this one already. This was picked up for about $1k, non running, to become the Daily Turismo Project Car. We turned it into a reliable DD, but after our friend Alex bought it, he has made it into something special – updates from Alex and his brother Karl continue here.
Status: Swedish Mafia ride, bespoke & uprated
1966 Volkswagen Beetle – CFlo
My first car, and an immensely entertaining, albeit slow and unreliable, way to get to and from high school and band practice. Rescued from an aborted Baja Bug build, and lowered on Empi 5-spokes back in the late '90s. The interior is stripped of everything except seats, the 1641cc dual-carb engine is extremely loud, and the four wheel unassisted drums want to lock up pretty much whenever they feel like it. But I can't ever part with this little guy; just too much character and too many good memories.
Status: Semi DD, future Rally Beetle build?



2010 Volkswagen Jetta SportWagen TDI – CFlo
Combine practicality, modern reliability, decently good looks, a six-speed manual and monster diesel torque. What do you get? A salsa red TDI Jetta wagon. This is the best road trip vehicle I have yet to find for 2-4 people. It eats up highway miles with plenty of passing power, is capable of over 50 mpg on the open road, and has some of the best seats I've sat in. I can forgive the fact that it's FWD for everything else it has to offer. The first and only new car purchase I've been party to.
Status: Semi DD, road trip machine
1993 BMW M5 (E34) – The DTM5 – CFlo
I "traded" my friend DWood the Toyota Hilux (above) for this hand-hewn piece of Bavarian artisanal Autobahn pounding steel. It's one of the current DT project cars and I've been slowly working out the kinks, hooning it around on the street (and track) and trying desparately to keep the high-strung S38 inline six together. Pray with us…to Wodan and whatever other Teutonic gods are listening.
Status: Current DT project car & semi DD
1973 BMW 2002 – der Schmetterling – CFlo
The anti-project car. My wife traded up from the rusty 1800S (below) plus a little over $1k cash, we ended up with this sweet Golf yellow roundie 02. It's the original color but a recent respray, with a bunch of Ireland Engineering suspension goodies and Euro farkles from the previous owner. Watch this space…the 2-barrel Weber carb will soon be ripped out in favor of some fuel injection of the pulsed electronic variety.
Status: Semi DD, future DT project car subject
1966 Volvo 1800S – CFlo
This was the cheapest running 1800 of any type that I'd ever seen when I found it on the Turbobricks.com forums near Sacramento, CA. An old friend / Volvo flipper was unloading it for $1500, for crying out loud! My wife wanted some sort of project car; we drove it back to LA and got to work. Then we had a kid, so the rust repair & paint work was no longer in the cards. The twin-SU equipped B18 sure ran swell though.
Status: Sold via DT, now in New England!














1994 Toyota Land Cruiser (FZJ80) – CFlo
The ultimate all-terrain vehicle in my humble opinion. Found on the ih8mud.com forums for ~$5k. Equipped with Old Man Emu springs & dampers, 35″ BFGs, and factory electric lockers front, center, and rear. The 1FZ-FE engine is sorta modern, with EFI, twin cams, and 4.5 liters. But with only 212 hp and a slushbox I am seriously considering adding a turbocharger to this beast. Works surprisingly well for towing a car on a trailer.
Status: Current DT Rock Crusher & workhorse
1986 Subaru GL-10 Wagon – CFlo
A front wheel drive, carbureted 1.8 liter base model with 250k miles. This thing was minted before Subaru made AWD standard. It was free, and it was a great college car in the SF Bay Area. Rusty A-pillars and a gradual loss of anything resembling power led me to ultimately donate it to the Red Cross vehicle collection service after the battery died and the rear dampers turned into wet noodles. That and the fact that the handbrake locked up the front wheels when I tried rallying this thing on dirt roads – lame! I would still recommend one of these '80s wagons to anyone looking for a thrifty, reliable and slightly entertaining ride. The AWD version would be a great (and cheap) lightweight alternative to an SUV as an "expedition" style vehicle for exploring and camping offroad.
Status: Crushed
1932 Ford Pickup…uh, sorta – CFlo
This is literally a pile of parts that I pulled out of a field, but most of them are original '32 Ford steel. Originally planned to be an airbagged hot rod with a Ford 6.8L V10, I've changed my mind on project direction several times. Currently I'm thinking the cab & parts of the bed will be plunked down on a bespoke steel tube spaceframe with some kind of crazy drivetrain, and I'll use it as a street-legal track rat (Miatabusa, anyone?)
Status: In the garage, pile o' parts.
1993 BMW E36 – Bavarian Brougham – Vince & CFlo
This was just about the rustiest 325i any of us had ever seen, but it drove somehow better than an M3. Perfect LeMons car! We caged it, stuffed some 275mm Falkens under it, and glued on a white vinyl top. Judge Phil loved it. After seeing action at a Buttonwillow full 24 hour race and Chuckwalla in 2012, the original M50 inline six gave up the fight. Perfect V8 swap candidate.
Status: Under the knife; LM7 5.3L transplanted…
1986 Toyota MR2 – MR SakiBOMB – CFlo & Vince
Picked up by our buddy Dan as a semi-finished LeMons racer – a first gen MR2 powered by a Kawasaki Ninja inline four sportbike engine, sitting where the passenger seat used to be. Chain drive to a spool, stock MR2 axles to the wheels, 13,000 rpm F1 soundtrack, clutchless shifting. No reverse. It scared the crap out of Vince the first time he drove it in anger. Not for ninnies!
Status: Blowed up, awaiting engine replacement.
1992 Eagle Talon TSi – Crapbox – CFlo
My First LeMons Car(TM). I helped revive this thing before I got hooked up with Vince and Black Iron Racing, turning a forgotten Altamont-era racer into something marginally better. Rebuilt 4G63, "big 16G" turbo, AWD. Raced at Thunderhill and Sears Point, Rallycrossed at Glen Helen, and we broke it. It failed, like all good turbocharged DSMs do eventually. I moved on to the E36 and never looked back.
Status: Sold, crushed, whatever.
1995 C36 AMG – Vince
This was a car I purchased used and drove as a daily driver for a few years. It was surprisingly comfortable, reliable, and fast — ultimately let down by a 4-speed automatic transmission and a 1950s era truck steering box. Status: Ex DT Luxobomber

1984 Porsche 928S – Vince
The best crappiest Camaro that Stuttgart could build in 1978. It was through an interesting set of circumstances that I found myself proud owner of one of the cheapest examples of a Porsche you can buy, but it made great noises and had a fantastic seating position. Status: Ex Weekend Runabout

1986 Ford Mustang SVO – Vince
This was a car I purchased to use as a temporary driver while another car was getting some needed attention. It was very useful for the year of ownership and I actually made profit when I sold it. Status: Boosted into outer space.

1995 BMW M3 (E36) – Vince

Right after my wife had our first kid, I sold my reiable Volkswagen Passat sedan and picked up this M3. I don't know what to say other than…I'm sorry, honey? It was a great car, just not great for wrestling two kids in car seats in the back. Status: Sold.

VW Rabbit Diesel – Vince
This was another strange car that came to me from a friend and was passed on to another friend a few months later. It was the slowest car I have ever driven bar none [Ed CFlo: I thought Vince had lost his mind when he rolled up in this thing the first time I saw it. A few years later, he started DT. Correlation…?]. Status: Sold.

1969 Ford Mustang Fastback – Vince
I picked up the Stang from a backyard in El Cajon right after Y2k. The modified 302 V8 mated to a T5 ran well, but the car needed a complete restoration. I've turned just about every nut/bolt on this car a few times, got it painted, installed a rack-and-pinion, hydraulic clutch, all new suspension, and turned it into a restomod that I use as my Friday driver. Status: Still doing burnouts every other Friday.
2001 Volkswagen Passat B5 1.8T Manual – Vince
Purchased new from a VW dealer, this was the car that I spent the most time with. 100k miles and 8 years later, it had a custom one-off ball bearing equipped stock-sized turbocharger, lowered suspension, Audi UrS6 wheels and it looked as good as new. Status: Sold, but not forgotten.
2004 Subaru WRX STi – Vince
I picked up this STi as a replacement for the M3 right before my third kid was born and it immediately stepped into the role as daily hooner. It looks ridiculous, the kids love it, and I can't stop smiling when I hit the gas pedal. This is the only car that I have ever been cited for traffic violations in my entire life. Status: Still drifting…errr…driving the legal speed limit.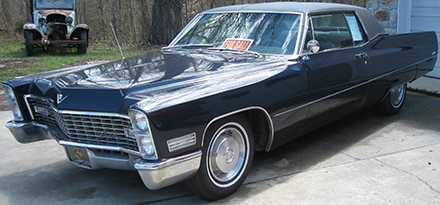 1967 Cadillac Coupe de Ville – Vince
This was a weekend car that I picked up and cruised around for a few years. No other 2-door car has come close to offering the same level of comfort for driving 6 people around than this thing. Status: Sold to an actual pimp.
1980 Mercedes W123 240D 4-spd manual – Vince
This was one of many classic W123 sedans that I had the pleasure of using for daily transport. This one was a college car and I seem to remember having a leaky caliper that was never fixed because I too was broke. Status: Long gone.
1978 SAAB 99 EMS "Draken" – Vince
The Draken was a recent add to my car collection, and it was my first foray into anything built by the madmen at Svenska Aeroplan AB. It has been oddly reliable, strangely satisfying to drive fast or slow, and a great oddball daily driver. Status: In the fleet, but might be on the block soon.
1986 Chevrolet Camaro Z-28 – Vince
This (representative pic on right) was the first car I purchased with my own cash, and it was pretty terrible. My wife (girlfriend at the time) would comment that it was easy to find the car in a parking lot because you could follow trail of coolant. Status: Sold and forgotten.
199something Mazda Miata (NA) – PhiLOL
Ever enigmatic, PhiLOL simply says:
"This is the best picture I have of The Roadster on my phone. I've previously owned an Escort ZX2. Hardly worth mentioning!"
1994 Buick Roadmaster Estate – Kaibeezy
Our own graphic designer and resident salmon cannon expert, the 'beez got a "smile on every drive" from this LT1-equipped dinosaur longroof. The General only put this engine in this car for three model years, and it's a rare woodie-delet version. Curiously, he goes on to write: "Best car ever made, moved to Neptune, ???" Now that KBZ has left us (in body, not in spirit), what will be the fate of this master of the road?
Status: Watch DT in the coming weeks for an update…
1998 BMW 540i / 6MT (E39) – Kaibeezy
After selling another, smaller 6-spd manual German vehicle from the '90s, KBZ picked up this supreme highway cruiser. In his own words, KBZ says,"I really had myself dialed in here with these two cars [the 540i and Roadmaster] – I'm bummed about having to sell them – I'd better come up with something nice when I get where I'm going." He throws down hard by saying that the E39 540i is the best car he's owned, "no contest."
Status: Sold prior to Neptunian relocation
Image from Wikimedia commons
2007 Toyota Avensis Estate – Diesel – Kaibeezy
Upon his arrival on the gassy non-surface of Neptune, KBZ finds that they have cars other than what he's used to from the States. After searching for known options, he says, "what's this? – Toyota Avensis Estate! – smaller than a Camry, or maybe bigger, no one seems to know or care – a washing machine on wheels i would sneer at in NorCal – here, it's got cargo room, sturdy diesel engine, stick, Toyota reliability – i'm actually excited!"
Status – Current KBZ Flying Saucer
—
Now we move into **The Hunsbloger Zone** – he is a consummate storyteller and the number of cars he's forgotten he owned is larger than Vince or CFlo's experience combined. Not really, but you get the idea. He scribbled this stream of consciousness while in a beer haze on vacation and apologizes for not having all pictures available, but given his age, most of the pictures are in black and white anyway. We've filled in with Wikimedia commons photos where available (unless otherwise noted), to simulate the full experience. These are in chronological order.
—
1962 VW Karmann Ghia – Hunsbloger
Bought this from my driver's ed teacher for $140 and gas was $0.42/gallon. My first foray into bodywork, which I found that I not only enjoyed, but am pretty good at. Got it all painted (backyard with compressor and air gun, no one was worried about the cloud of fumes and blue paint dust as they drove by and we were not very concerned about the bugs that couldn't resist landing on the freshly painted steel/bondo) The first to suffer from my overly heavy right foot on an ancient, underpowered, air cooled engine. Dropped a cylinder, sold it to the mechanic for $50 and moved on.
1963 Triumph TR4 – Hunsbloger
I was hitchiking in the rain one night when a grad student picked me up in this car. I marveled at how cool it was (you have to imagine "this is totally cool" coming from a kid with shoulder length hair, sporting the '70s Frye boots and weighing about 150 lbs to get the full visual impact of what method actors have tried to duplicate for the typically unalert 70's teenager). We struck a deal. He dropped me off. I got the money the next day and drove it home. This was the WORST car I ever owned but I think it was sabotaged by the owner who wanted some kind of payback for my overly casual appearance, how else can one explain..
-losing the fuel sediment bowl on the drive home
-losing the third gear synchro and the exhaust actually falling off the car on the first drive to school the next day
-having a rod go while cruising at a steady state
1972 Mercury Capri (2000cc) – Hunsbloger
Bought this car from a friend in Texas. Thoroughly enjoyed its ability to effortlessly drive at highway speeds, take a beating and to learn that Texas dirt roads are as much fun as snowy New England roads to hone one's drifting skills.
1968 Pontiac Tempest – 350/Powerglide – Hunsbloger
Bought this car (50/50) with my sister while we were both attending OU (Oklahoma) which meant, she paid her half and I drove it 99% of the time. Never underestimate the durability and speed of a powerglide! While an incredible dog from 0-40mph..this car more than held its own in rolling starts on the highway at 50mph to about 80mph! Its all about understanding the curve of that monstrously long 1st gear (I never did hear it shift on its own, I always induced a shift by lifting momentarily off the gas). Footnote: Once you've experienced the joy of air conditioning during the summer in the midwest you will NEVER go back unless you're on a track in a timed event.
1972 Opel Manta – Hunsbloger
Bought this car from my folks after it had been in the family for a few years. This is an emotional favorite because even (without air conditioning in the midwest), the skinny little tires were eager to light from a standstill and people would be constantly amazed at how effortlessly it could bury its tach in 1st and 2nd gear. (What is amazing is that in the 1970's it took about 10 seconds to run through 1st and 2nd gear and we were still working our way towards 60 mph!)
1974 Triumph TR6 – Hunsbloger
I started selling cars in 1976 and I bought this car from a wholesaler who was a frequent purchaser of used cars from the VW/Honda/Saab dealership I was working at. Mallard Green, with camel interior, optional steel hardtop, full tonneau cover, luggage rack and overdrive transmission. The most nose heavy car you will ever drive. With tall sidewalls and skinny tires, the front tires will fold over the rims like a college kid hanging over a toilet after his first adventure with everclear and koolaid! Another car not to be underestimated when trying to line up street races. Being mindful to always start the race at 40 mph, accelerate hard through 2nd, hit 3rd, then 3rd overdrive and then 4th. If nothing else, the losing ('70s Mustang 302 with an smog pump and automatic) will still be scratching their head over just how many gear shifts you pulled off before leaving them behind. This is the consummate tweed jacket/hat and picnic basket with wine and cheese cruiser for any Sunday drive, but needs serious money spent to get a better power-weight ratio to be competitive in anything sporting.
Image: Fabio Aro, flickr
1968 Mustang Fastback GTA Bench Seat J-Code 302– Hunsbloger
The only aborted project car I've ever owned. This car was a trade-in that had a bent coat hanger for a throttle linkage. We allowed $0 for (but showed the customer $150 on paper). I paid the dealer $50 for it and had visions (delusions) of turning it into a Bullit-clone. It had some potential as it had both the upper and lower consoles, the previous owner pulled the automatic (GT/A) and installed a toploader 4 speed, but the car was driven to the dealership with open headers. The guy literally kluged it together to drive to the dealership to buy the cheapest new car we had (Honda Civic Sport Sedan $2,964)! After getting it street legal to drive and trying to splice a new wiring harness into it, I decided there were other cars more deserving of my attention so I sold it to a friends dad. (That bench seat is an uber-rare option that would have made it worth keeping if it had its original auto transmission in it).
1976 VW Rabbit – Hunsbloger
First of many FWD VWs. This one came with a girlfriend attached. Nice commuter car but needed something more sporty.
1978 VW
Scirocco – Hunsbloger
(Precursor to the Champagne Edition, Precursor to the S Model) This was the first (Sidewinder) / Solo Scirocco. It was another trade in that came in at a ridiculously low price because the foreign exchange student who owned it decided to cover every square inch of it in a criss cross pattern of black vinyl striping. The dealer was concerned that the stripes had been on there long enough to possible lift the paint of when they were removed, so I bought it on the speculation that they wouldn't. Drum roll….. I was right. It took me about 4 hours to remove it all, but I ended up with a beach ball sized ball of black tape and a perfect Scirocco for thousands less than wholesale!! My first really great deal. This is an emotional favorite because at that time, for that amount of money, it handled, it was quick (for its time) and it was bulletproof in its reliability.
1974 Jaguar XJ6 – Hunsbloger
In my mid-twenties now, I needed prestige! What would be more prestigious than a Series II XJ in Sable Brown/camel with appropriate Michelin redlines. I used to love sitting at railroad crossings with people in the car so that we could roll the windows up and amaze ourselves at how vault like the interior became. Never try cutting big loopy donuts in the snow in an XJ! They are way too azzheavy to be heaved about with any predictability. They do however handle the task of departing from gravel covered parking lots of honky-tonks in the style of a true hoonigan! Also, its a good idea to remember that the attendants of the Turner Turnpike toll boths (in Oklahoma) occasionally look at the time stamps on the toll tickets. When you're really lucky, they tell you that you just set a record for the fastest toll-toll speed they've ever seen. Fortunately, I don't know the bad version of that story which is when they tell you to pull over and wait for the officer to interview you about your speedrun! 🙂
1974 VW Thing – Hunsbloger
Sold my Scirocco (above) to buy the Jaguar (above) and took this THING in trade. The dealer was out of town, so I put it on their used car lot and sold it that afternoon to the first person who looked at it! 🙂
1978 Chevy Monte Carlo – Hunsbloger
I left the car business after the economic crash of 1979 and got into the oil industry. I needed a car to travel the state in. It had to be nice, but not too nice. Bought the first decent trade in that came through the door before my departure. It happened to be this. Talk about anemic. 305 V8 with full smog choking vacuum pumps. Driving from Oklahoma City to Albuquerque, NM I had to remove the air cleaner to keep the car moving at highway speeds (there were no air/fuel adjustment screws on smog equipped '78 Monte Carlos because they were so concerned that someone might tamper with them.) Drove it for all of 6 months and couldn't take another minute of it.
1980 VW Scirocco – Hunsbloger
Went back to my buddies at the dealership and bought something I knew I'd love… the first of only two new cars I've ever purchased. It was like going home. Smile on my face for 50,000 miles per year with absolutely no maintenance other than oil changes and a timing belt at 90,000 miles.
1980 VW Jetta – Hunsbloger
Commuter car for the spouse-du-jour. In 1980 they started selling Rabbits with a trunk tacked onto the back and put a different grill in them to disguise them. HUGE trunk. I put a 6-ft. Christmas tree into the trunk and closed it!
Hunsbloger himself with the 911T
1972 Porsche 911T Coupe – Hunsbloger
Got rid of the spouse du jour and needed something a little more befitting my hunger for more performance. At this point in my life, I kept this car longer than any other car I've ever owned. I owned it for 3.5 years. Bought it for $7,500 and took it to a very well known Porsche tuner/racer in OKC. He set me up with some monstrously huge webers, solid cam chain tensioners to keep it from slapping chains and surprising valves and reminded me that whenever you're trying to drive your Porsche on a tight course, always have a good amount of fuel in it, otherwise they lift the nose and pull traction away from the front tires. He gave me that tip right after I'd driven straight through the first gate of an autocross. Left the course, refueled and got back to bidness.
1978 VW Rabbit – Hunsbloger
Employing the two car strategy (one to drive 50K miles per year and one to have fun with) the Rabbit was the beater daily car for its fuel efficiency and its ability to withstand harsh OK crosswinds like a big car and its ability to drive through snow when the roads aren't plowed. Yup, 9-in snows in OK in February are not rare, but they do cause a fair amount of auto carnage.
1983 Olds Toronado – Hunsbloger
Needed a work car, family car and out to dinner car. Turned out I was actually just out to lunch!
Wallowy drive, loose pillow seats, anemic 305 V8 which was actually a decent performer for its day.
This car represents what happens when designers try to isolate the driver from the item being driven. They wanted you to believe you were actually in your living room rather than driving. A great place to take a nap.
1985 Nissan Maxima SE 5
Spd – Hunsbloger
Hey, it was the shizzle in 1985! This is the only vehicle I've ever had a flat tire in and I had 9 flat tires in 18 months all over Oklahoma. All Bridgestone Potenzas. The 300ZX, 240SE and the Maxima SE all had the same V6 and 5 spd. The 240 was the quickest of the three but there were not many of them around. The 300 was so heavy that if you found a 300 with two people in it you could always beat them in a street race in a Maxima. This was the Japanese equivalent of the Toronado but they didn't sacrifice the joy of driving, they retained it. In fact they were so proud of themselves they renamed it the 4DSC (4-door sports car) in the next series.
Photo: specialmustang.com
1987 Mustang GT
Convertible – Hunsbloger
Its all in context of time. Bruce Willis was starring in Moonlighting on TV and I had to have a BMW 633. A friend was selling BMW and used cars. He had one, I drove it and liked it up it was only a 4 speed and it revved way too high at 80mph for me to use as a daily driver. He also had a Porsche Turbo which I eyeballed and knew better, then he said he had the car for me. He disappeared and reappeared in the antithesis of the Spencer For Hire White/White/White BMW… the triple back Mustang GT Convertible 5-speed. I thought he was kidding, until I drove it. Mustangs had been anemic for several years and were starting to creep back towards life in 1986 with the GT (at 200HP). The remodel with the aero look wasn't my cup of tea but the leather buckets with the adjustable knee supports, the perfectly positioned 5spd, the quickest electric top I'd ever used, a Detroit Locker rear end that made just enough noise to let you know that it was ready to go and I was hooked! I tried driving it nicely, but that lasted about an hour. Ran it in an autocross the next morning in the rain and had a total blast! Best memory: Drove this car from Oklahoma to Boston where I set a personal best for long distance driving at speed (thank God for guard rails separating the lanes in the hills of VA). The car was stolen my first night in Boston, which was a harbinger of things to come. I drove it back to OKC, setting another personal best. The leg from Allentown, PA to 50 miles past St. Louis was without a doubt worth of Kowalski and there were no little pills or psychic DJ's injured in the remake.
1973 Ford Mustang Mach
I – Hunsbloger
Left the east coast for San Diego. Sold the 87 Mustang in OKC to the same guy I bought it from, flew to San Diego and needed a car. Dude just married my sister and was going to trade his car in for a new car, so I bought his old car and moved into the apartment he was vacating. 351 with 2bl and FMX transmission. Had a Maaco repaint (red over green) which looked pretty cruddy. Had to rebuild the transmission, pulled out the dusty body working skills and repainted it in their new garage! Flipped it to a Marine and saw it at car shows a couple of years later.
Photo: blueovaltrucks.com
1980 Ford F-100 Pickup – Hunsbloger
Saw this truck sitting behind the company that my sister managed. No one new who it belonged to. I paid for a title search and found out their company owned it. Someone had stolen the starter off of it. I put a new starter on it, had a set of keys made and owned it for CHEAP! Repainted it in my sister's garage, used it to haul parts for the next couple of cars and bikes on the list and showed a guy in a Corvette that I could in fact lay a bigger longer patch than he could with my 6 cyl Ford pickup. Start in granny first, and just keep shifting until you run out of gears.
1979 Saab 99 Turbo 5 door – Hunsbloger
The previous owner was a true Saab freak, he pulled off the power steering and installed an EMS manual rack and set up the suspension with much stiffer bits. As with the Drakken, this car is incredibly flexible. Autocross it, camp in it, use it as a pickup truck all with near 30mpg fuel efficiency on the highway. Unfortunately, my worst mechanical faux pas was realized. It had a very small leak in the radiator and I was a starving student so upon the advice of a friend I put Stopleak in the system. *Admitting this in front of CFlo and Vince is very difficult as they can now explain what it does to the tiny little cooling passages in a turbo equipped car* About a week later, the turbo gave up its oil seal turning it into a rather dramatic road based crop duster. However due to perfect (Divine) timing, the car was turned into the environmental program as I stepped into my new career in alternative fuels! 🙂
1972 Mercedes-Benz 280 – Hunsbloger
Just needed something to haul parts in, and I always liked this baby Benz body style. Had salvage title, ice cold a/c, sunroof, floor shift, needed nothing, for $2400. Never park one of these on a really steep hill with the engine running. Talked with someone on the (then new device called a) cell phone. Apparently the crank just loves whipping that oil into a foam causing it to depart the exhaust as a cloud of oil smoke. Not to worry… put it back on level ground and all's forgiven. Hauled two Mazda MX6 seats in the trunk along other stuff and was able to close it. Hitmen had to love these things for the quantity of what can be stuffed into them.
1965 Chevy Corvair Monza
Convertible – Hunsbloger
Needed something to take to the beach while building other stuff. Found it for $4500, drove it for 2 years and enjoyed the bewildered look of people watching me pass them on various Interstates at 80+ mph and a big smile on my face. Nader's an idiot, the '65-'69 Corvairs are a blast.
This one IS Hunsbloger's car!
1967 Mustang Fastback – Hunsbloger
In 1997 the Mustang market was just getting ready to give up on the 'perfect restoration', but it was still sacreligious to really cut one up. I knew a lot of guys driving street rods with tons of performance and creature comfort upgrades and wanted a car that was as fast as a new (1997) Mustang, with all the creature features and better handling. Little did I know that I was building one of the first Resto-modded Mustangs This was a labor of love. I took this car apart two or three times to build it the way I wanted it. Had it painted, reassembled it in my garage and then drove it like I stole it. It had 4 wheel disc brakes, roller 302, A/C, cruise control, electric windows, tilt steering, Mustang II rack and pinion (out of a salvaged car, not a kit). Kept it for 15 years and succumbing to the demands of another transcontinental move and a growing family, sold it to a good friend who occasionally hangs with Vince and CFLO. For all the cool of this car, Vince still holds the record for the best purchase of an old Mustang of anyone I know.
Huns' actual 57 Buick Century
1957 Buick Century 4d Riviera Hardtop – Hunsbloger
Chrome is king, but stainless is the Emperor! 364 V8 with a 4 bbl making 300 gross HP out of the factory, this IS the hotrod powertrain of the 1950s. Aluminum finned brakes that were used on almost any custom car through the 1970's. Nothing, and I mean NOTHING, will make people move out of your way faster on a California freeway than seeing one of these pulling up behind them at full boil! Not even your retired CHP cruiser has the same impact because they will quickly assess that you don't have the right 'look'. The Buick concerns them because they wonder if you can stop in time to keep from crushing them! If you're in a hurry, put a '57 Buick on the highway and just watch them clear a path! Uber rare feature: Factory A/C!
…and his verified real Caballero…
1957 Buick Caballero Wagon – Hunsbloger
This car was the intended beneficiary of all of the power train and good chrome from the Century 4dr. This one was uber rare in that it came from the factory with power windows and power seats. A sudden change of location from CA to MI required that we lighten our load so i sold both the '57s. The Century ended up in Norway and the Wagon is still disassembled in northern Oregon after having been repainted.
This one is Huns' own car too…
1965 Buick SportWagon – Hunsbloger
After selling the Mustang, I needed a weekend car, but something that could hold the family. The Buick Caballeros have gone through the roof on the auction circuit so I came down the price appreciation curve until I found the next best thing. Its an able performer and draws a ton of compliments when people see it. Power Windows, power seats, factory air. An overcrowded garage will have this one on the block in the near future; watch for it here.
2005 Volvo XC90 V8 – Hunsbloger
We have owned this car longer and driven more miles in it than anything either my wife or I have ever owned. Purchased after a steep first year depreciation with only 15,000 miles on it. It now has over 170k miles on it and still impresses with outstanding mid-20's fuel economy on the highway and incredible comfort for long drives hauling unbelievable amounts of luggage (crap) and its capacity to go through truly impressively deep piles of snow/mud/sand with regular tires. BTW, anyone driving an SUV sized vehicle: Yokohama 580s are the only tire to own, they will yield almost 2x the mileage as any other tire I've tried.
1994 Ford Taurus, 1999 Ford Taurus SE, 2000 Ford Taurus SE Wagon, 2000 Mercury Sable LS Premium, 2003 Mercury Sable LS Premium Wagon – Hunsbloger
The work horses! The cheapest, most reliable cars ever built! I've owned five and find them with ultra low mileage and drive them for years. We've driven cross country in hem several times. Just sold the last one (the '03 Sable Schlepwagen) yesterday. Found the '03 in '07 for $7,300 drove it for 75,000 miles in 8 years and gave it away to a couple yesterday for $3,000. The car was worth more but we like the idea of know that we're providing real utility to someone who really needs it and cannot afford to spend a penny more.
Photo: gtcarlot.com
2010 VW Passat Wagon (2.0T with DSG) – Hunsbloger
Just picked this car up last week and have already driven it 2,000 miles or so and am thoroughly impressed; and very glad to be back in the funkingroovin mode! It has amazed me over the years how of all the brands of cars I've driven and sold, I've always felt instantly at home in any VW, they always feel like they were designed for ME.
*I purchased all three of the Buicks on the internet without having seen them in person, without benefit of a PPI, before having them delivered by truck to my door, there have been some surprises, but all were relatively minor and they speak well for dealing with people by phone and trying to determine (by their conversation) if they are credible and reliable. The Volvo XC90, the '03 Sable Wagon and the '10 Passat wagon were also purchased online from fairly large new car dealerships located outside the state I was living in. In each case, I made my deal over the phone subject to my inspection when I went to pick up the car. Flew in for two of them, drove cross country for the third. I'll try to scribble down the things to do and avoid when trading online with a dealer as soon as the joy of our vacation wears off.
Ed CFlo…phew! We hope you enjoyed this extensive look at DT's own stable through the years. More to come, I'm sure. We didn't even get into motorcycles…