Do you like turbochargers and all-wheel drive, but need a useful back seat and are on a budget? Unless you drive a Mazdaspeed 6 like the other adults – you will probably look at a Mitsubishi Lancer Evo or this 2005 Subaru STi. Located on the NASIOC (North American Subaru Impreza Ogglers & Complainers) forum website and physically located in an unspecified city in the peach-pie state of Georgia – this "Aspen White" STi is said to be relatively stock and is offered for $16500.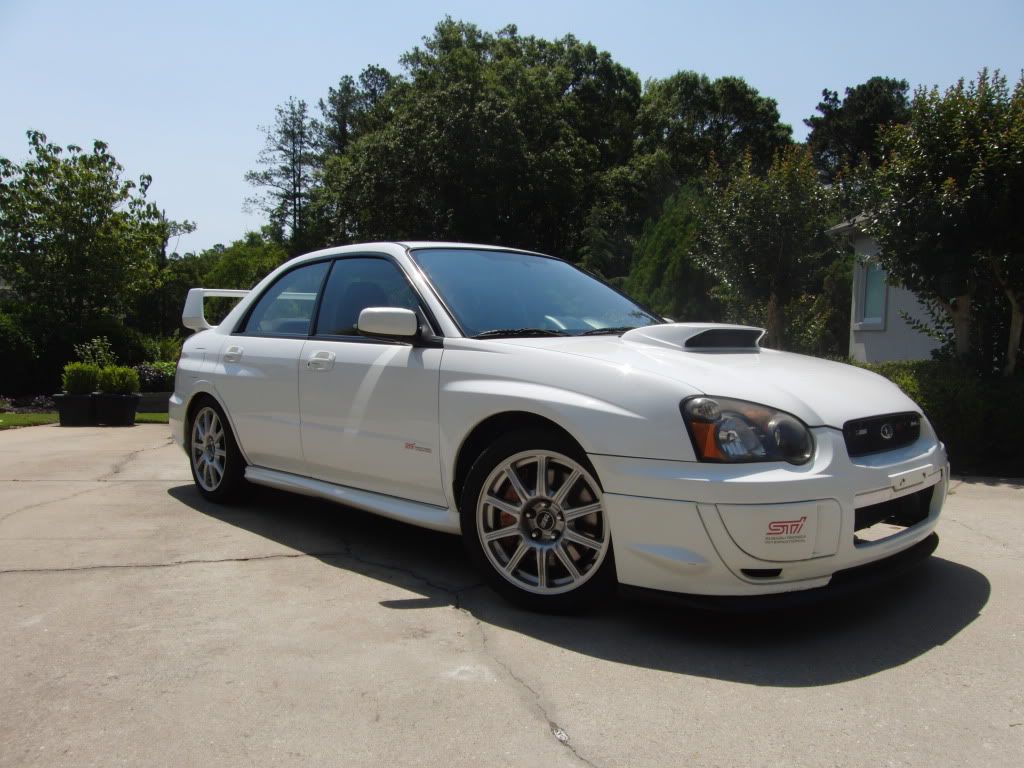 The GD-chassis Subaru Impreza STi first appeared state-side in 2004 model year – and continued unchanged in 2005 except for hub/wheel bolt pattern changes and a cosmetic fender flare in the rear. The rear wing blocks most of the view from behind (but what would you look at anyway – you so fast in this car, you be passin everybody!) and the front hood scoop (with integrate cooling mist sprayer) could swallow a large bird of prey.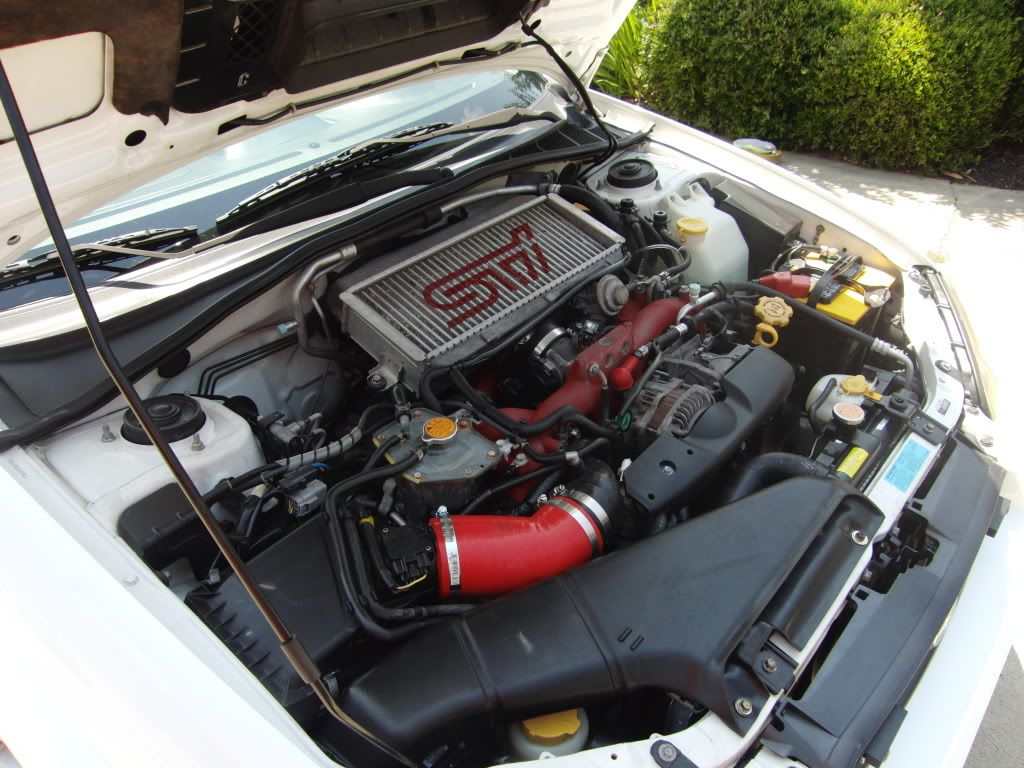 The EJ257 turbocharged and intercooled DOHC 2.5 liter flat 4 engine (unique to the STi Imprezas in the early cars) produces 300 horsepower and 300 ft-lbs of torque. This power is put to the pavement via a 6 spd manual transmission and a sophisticated all wheel drive system with front and rear limited slip differentials and a variable locking center differential.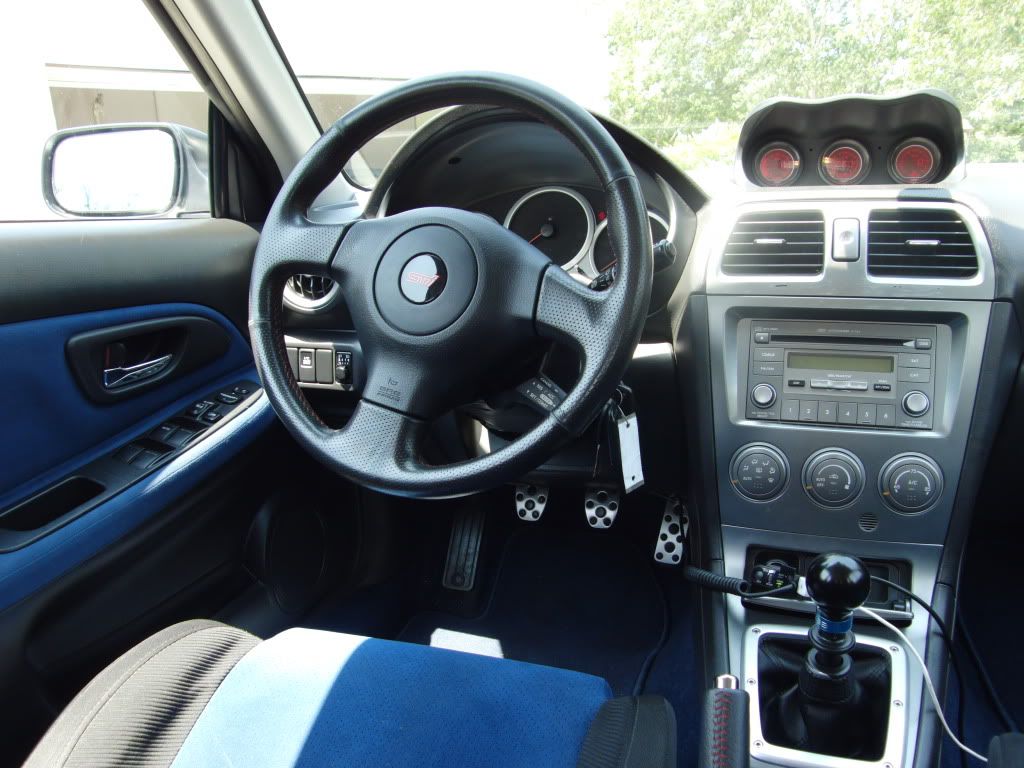 Inside – the driver is treated to some of the nicest (and durable) cloth covered Recaro seats available and a standard plasticy Japanese interior. This particular example has all kinds of wires running past the gas pedal and some huge gauges that I think the seller says will stay with the him…but its probably negotiable. Its a good thing that the interior is comfortable because an STi is not always nice to is driver – punishing him with an extremely rigid suspension and a combination of oversteer-understeer-oversteer on turn in – mid corner – exit corner respectively. Driving an STi in an autocross environment has been described to dailyturismo as "a bit like riding a Rhinocerous" by a national autocross podium finisher.
Subaru's from this era suffer from notoriously poor paint quality – especially on the plastic 747 wing and eagle scoop, but this one looks to be in good shape for 91k miles. STi owners change transmission fluids as often as others change engine oil – mostly to remedy and cause various transmission and shifting issues – but this one comes with a recent tranny fluid change – so you can probably repurpose that fluid in your riding mower when you change it out for BrandX30 to try to fix the mystery grinds in 5th gear.
Will this car meet the needs of a 35 year old who still acts 15? Yes! Will it the engine blow up? Maybe…Will the transmission dump its contents onto the ground when you try a 7000 rpm clutch drop at the drag strip…definitely.
Got a car for sale? Or see something that is a daily turismo? email us: dailyturismo@gmail.com