Among all the penile enhancement spam we get in the Daily Turismo inbox (seriously, with the volume of that spam you'd think someone had been talking to the DT staff urologist) we get an occasional seller submission and today we got a sweet one. This 1923 Renault KJ boat tail is for sale in Mission Hills, CA and is currently bidding on ebay for $8,569 with 3 days to go. (This Renault is a seller submission from DT reader Tamas).
Many years before the French embraced the alluring call of 'take care of me oh benevolent grand frère' socialism, France was a hot bed of philosophers, thinkers and tinkerers. Still known for cheese, wine and surrendering today, France could count engineering innovation among their list of specialties back in 1923. This Renault is one of the results of an enthusiastic engineering community and a buying public that wanted cars instead of another war with Germany. The nose of the KJ was an example of Renault's unique coalscuttle bonnet, achieved by positioning the radiator aft of the engine.
The engine in this case is the 6CV, a 1 liter inline 4 cylinder spark ingnited gasoline engine that puts out a measly 15 horsepower. Top speed is listed as an optimistic 43 mph.
The KJ is modern enough that it uses a standard 3 speed column shifted manual transmission and the modern style 3 pedal setup – no Model-T style planetary nonsense here. The interior looks to have a form follows function setup and could be hosed out if your date pukes in the front. Always a plus.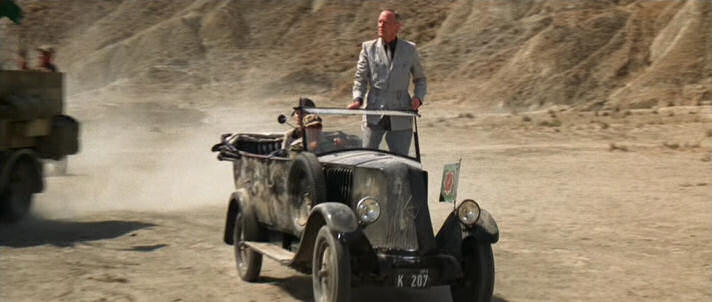 A 4 door version of the KJ (some folks call it the 'Torpedo') was used in Indiana Jones and the Last Crusade. It was evil-Nazi-bad-guy Walter Donovan's staff car for the journey to the Valley of the Cresent Moon.
The rear end of the KJ is finished off in nautical style and has a sweet boat-tail rear end. This particular example looks in good shape for the money and we could picture cruising down to the local car show on a sunny summer afternoon.
Have another classic for sale? Send it to us and we'll list it for free! Check out the terms on our seller submission page.